Eliza Jane Brennan was born in Hillsborough in 1843. On May 8, 1863 at the age of 20 she was married to Samuel Millar, a servant of full age, in St. John's Church, Kilwarlin, Parish of Hillsborough. Eliza Jane's father is listed as Edward Brennan, a labourer; Samuel's father as Samuel Millar, a labourer. Both Samuel and Eliza Jane were resident in Toghblane (sic) at the time of their marriage. Neither could write and so signed their marriage certificate with a mark. The marriage was solemnized by Howard B. St. George and witnessed by Bernard Brennan (presumably Eliza Jane's brother) and by Catherine Brennan who could have been the bride's sister. Shortly after their marriage, Samuel and Eliza decided to join the Waikato Immigration Scheme and to emigrate to New Zealand. This information and most of the Miller family history described below and in Chapter 3, was obtained from Ross Miller, who has done a marvellous job of researching and documenting the Miller family history in New Zealand in his book entitled "From County Down to Down Under. The story of Samuel and Eliza Jane (nee Brennan) Miller".

The Waikato Scheme was designed by the government to encourage emigration to New Zealand by providing passage to a group of small farmers. They would work an assignment of land (10 acres) and receive title to that land after three years. Thus in 1864, with their infant daughter Margaret, Samuel and Eliza Jane travelled to Cork where they embarked on the sailing ship "Ganges" along with about 470 other passengers of modest means. The "Ganges", a clipper ship of 1211 tons (200 feet long and 36ft beam), left Queenstown, Ireland on Nov. 5, 1864, with a mainfest that included Samuel, Eliza and Margaret Miller. The voyage became a tragedy as over 54 children and 2 adults were to die of disease. The year-old infant, Margaret Jane Miller, died on Dec. 27, 1864, just after the "Ganges" rounded the Cape of Good Hope. A story in the ``Daily Southern Cross'' that reported the arrival of the "Ganges" in Auckland, New Zealand on Feb.14, 1865, after a voyage of 100 days, commented on the deaths though it also seemed to praise the captain, Thomas Funnell. Later inquiries in New Zealand characterized the "Ganges" as "The Death Ship" and attributed the tragedy to overcrowding, unsanitary conditions and a shortage of food and medicines. We note that a Robert F. Miller, aged 4 years and 6 months, also died during the voyage.

After some preliminary billeting, the "Ganges" passengers, including Samuel and Eliza Jane, were transported to their settlement in Pukekohe West about 30 miles south of Auckland. There Samuel and Eliza Jane were allocated two ten acre lots where, like many others, they probably erected a thatched hut known as a "whare". As the Millers developed their holding in the years that followed, Samuel bought and sold various lots and mortgaged them in an effort to make a living. Unfortunately, at one point in 1888, he was declared bankrupt probably because of a severe depression in the New Zealand economy.

But life in Pukekohe continued. Samuel is remembered for a rhyme he used to sing for his grandchildren (especially after a couple of beers): "I'm little Sammy Miller from County Down, I'm the best little man for 10 miles around". On May 13, 1913, the local newspaper, "Franklin Times", reported the celebration of the Golden Wedding of Samuel and Eliza, attended by a large family and dignitories such as the mayor of Pukekohe. Eliza Jane died of a heart attack at the age of 78 on Dec.21, 1922, at their home on Nelson Street. Samuel died in the Auckland Hospital on Nov.4, 1924, at the age of 85. They are buried in the Presbyterian Pukekohe Cemetery where their gravestone reads: ``In loving memory of our dear mother E. J. Miller d. 23 December 1922; also father Samuel Miller d. 6 November 1924; also dear brother Ted d. 24 October 1918. Eliza J. Miller; (E. S. Miller).'' This grave is located at Ref. 2096, Row F, Nos. 64, 66, 68. We note that Millers are also buried in No. 70 that has no headstone.

We list here the basic information on the children of Samuel and Eliza Jane Miller. For convenience, the families of these children are described elsewhere in Appendix 2A:
Margaret Jane Miller was born in Ireland in 1863 and died died on Dec. 27, 1864, aboard the "Ganges" just after the ship rounded the Cape of Good Hope. She was buried at sea the same day.
Mary Miller was born on Jul.9, 1865, in Pokeno possibly while her parents were temporarily billeted at Queens Redoubt prior to their transport to Pukekohe. She worked as a domestic servant and on Feb.12, 1885, was married in St. Andrews Church, Pukekohe, to Thomas Stephenson Twidle, a railway porter living in Helensville, the son of George and Ann Twidle. They lived in Mercer, in Auckland, in Parnell, in Rotorua, in Franklin and in Whangarei as Thomas was a railway employee moving to various jobs as a shunter, railway guard and goods foreman. Mary and Thomas also ran boarding houses primarily for railway workers. They had 11 children listed in Chapter 3. Thomas died in Whangarei on Mar.17, 1921, at age 60 and was buried in (Keoreroa) Otaika Cemetery. Mary retained the boarding house and was married for a second time to Thomas James Nott (also a railway employee) on Mar.13, 1922, in the Registrar's Office in Whangarei. Nott died on Oct.21, 1940, and Mary on Sep.30, 1943. She was interred in Pukekohe Cemetery.
Margaret Jane Miller was born in Pukekohe on Sep.25, 1867, and baptized there on Nov.5, 1867. On Oct.25, 1892, she was married in the Auckland Registrar's Office to a widower, Thomas Blong, who had been born into a Hugenot family in Ireland, his parents being William and Christina Blanc. Thomas and Margaret lived in Helensville and Tokatoka where he worked as an engineer on the steamers plying the Wairoa river. Then about 1894 they received land in a ballot and Thomas eventually left the steamers to take up farming. After the First World War, they moved in to Auckland where they ran a hotel but various family members continued farming. Thomas and Margaret had 11 children described in Chapter 3. Margaret died on Jan.11, 1942, and Thomas on Apr.6, 1951. They are buried in Purewa Cemetery.
Thomas Miller was born in Pukekohe on Aug.1, 1869, and later claimed he was born in a "whare" on the Grange farm at Glenbrook. Early in life he travelled about digging gum for a living and playing rugby for fun. He would travel to games on horseback. On Feb.1, 1893, he was married in his parents home to Ellen Muir Buchanan who had been born in Scotland. Thomas worked as a farmer. They lived in Helensville, Tokatoka and Waiukuams and they had 11 children described in Chapter 3. Ellen died on Mar.12, 1958, and Thomas died 4 months later on Jul.11, 1958. They are buried in Waiuku Cemetery.
Sarah Miller was born in Pukekohe on Jul.25, 1873, and led a difficult life. On Mar.10, 1897, a pregant Sarah lodged an application for relief with the Auckland Hospital; what happened to the child is unknown. On Jan.31, 1900, Sarah was married in the Drury District Registrar's Office to Joseph Goodwin, a farm labourer, and they lived in Ngaruawahia. They adopted a girl, Dolly Goodwin, but then separated in 1910 and Sarah returned to live with her parents. Joseph filed for divorce in 1916 citing Sarah's adultery with P.J.Francois. Sarah then went to Wellington where she gave birth to a daughter, Iris Coker Goodwin who was later adopted by Lionel and Sarah Mitchell. Between 1915 and 1918, Sarah had several run-ins with the law in Wellington and spent some time in prison. On Dec.3, 1921, she married a widowed bricklayer Thomas O'Connor at the Registrar's Office in Auckland and they ran a boarding house in Auckland. Thomas died on Sep.18, 1932, and was buried in Hillsborough Cemetery. Sarah died on Sep.9, 1936, and is buried in Pukekohe Cemetery.
Samuel James Miller was born in Pukekohe on Nov.1, 1876, never married and spent most of his life as a farm labourer in Pukekohe, Waiuku, Papakura and Mangatangi. He died of a heart attack on Jun.27, 1936, and is buried in Pukekohe Cemetery.
Isabella Miller was born in Pukekohe on Sep.2, 1879. On Aug.7, 1897, she was married in the Auckland Registrar's Office to John Hamilton Morrow (known as Jack) whose parents had also emigrated to New Zealand aboard the Ganges. They were dairy farmers and moved around a good deal in the North Island. They had 10 children decribed in Chapter 3. Isabella died on Sep.8, 1946, and was buried in Hillsborough Cemetery. Jack died on Sep.22, 1969, and was buried in the Ngongotaha Cemetery.
Edward Stephen Miller, known as "Ted", was born in Pukekohe on Nov.26, 1881. Ted died on Oct.24, 1918, and is buried with his parents in Pukekohe West as the above gravestone inscription attests.
Henry Miller, known as Harry, was born in Pukekohe on Nov.13, 1882. He worked in the Martha Mine at Waihi, in the bush in the northern Wairoa area and later as a butcher. On Mar.30, 1909, he was married in the Church of the Province of New Zealand in Te Kopuru to Sarah Olive Walton, known as Dolly. She was a teacher in the Mareretu School in Auckland. Soon they bought Dolly's father's dairy farm and operated this until retirement. Harry and Dolly had 6 children described in Chapter 3. Harry died on May 23, 1952. Dolly moved to Whangerei and passed away on Jun.21, 1974. They are buried in Mt. Wesley Cemetery.
Arthur Raymond Miller, the older of twin boys, was born in Pukekohe on Dec.26, 1884. Family legend says that he and his brother Ted built the house in Nelson Street for their parents. In early life Arthur held many different jobs including bush clearing, gum digging and work on the railways but spent most of his life working for the Pukekohe Borough Council as a teamster. On Christmas Day, 1911, in St. James Presbyterian Church, he was married to Ada May Stayte, whose family had emigrated from England. Arthur and Ada lived in the Nelson Steet house after his parents died and they had 11 children. They celebrated their golden wedding anniversary in 1961 with more than 100 descendants present. Arthur died on Jun.25, 1963, and Ada on Dec.3, 1983; they are buried in Pukekohe Cemetery.
Adrian David Miller, the younger of twin boys, was born in Pukekohe on Dec.26, 1884. He suffered from an illness called marasmus and died on Apr.27, 1885.
Hilda Adelaide Miller was born in Pukekohe on Apr.8, 1886. On Nov.27, 1905, in the Auckland Registrar's Office, Hilda was married to Robert Lenrick Saul Johnston of Pukekohe, known as Len. They lived on John Street, Pukekohe and had four children described in Chapter 3. On May 11, 1932, Hilda died of a heart attack while travelling to hospital by bus. Len lived another 27 years. They are buried in Pukekohe Cemetery.
Mabel Florence Miller was born in Pukekohe on Mar.13, 1889. Early in life she worked in the Geyser Hotel in Rotorua and in a boarding house in Frankton Junction owned by her sister. On Jan.25, 1927, in Auckland Registrar's Office she was married to Ante Robert "Tony" Plenda who was born in Dalmatia about 1879. Tony and Mabel owned a farm on the Thames coast at Tapu and had one child, John Brennan Plenda. Tony died on Jul.7, 1952, and Mabel on Jun.27, 1953. They are buried in Totara Park Cemetery, Thames.
Bernard McAuley Brennen (1843-1918) was the only known son of Edward Brennan. According to his own 1901 Census return he was born in County Down and it is quite possible that he was born in Taughblane, County Down. If so it is very likely that he attended the parochial school in the parish of St. John's, Kilwarlin, for that school is marked on early maps of the 1850s and was only about 100 yards from Bernard's home. It seems that he must have excelled at school because in 1861 at the age of about 18 he moved to Donaghmore, County Tyrone, to take up two positions as the teacher in the Church Society's School and as Parish Clerk in St. Patrick's Parish Church, Donaghmore. The first definite record of Bernard is his signature to the Vestry Minutes of St. Patrick's on April 1, 1861. As with later minutes he signed himself Bernard Brennenn. Moreover ``Mr.Brennan'' is listed in the Ulster Directories for the period 1863 through 1870 as the schoolmaster in the Church Society's School in Donaghmore. The Church Society's Schools were run by the Church of Ireland. A Miss Brennan, probably his sister Mary, is similarly listed as the mistress of the same school for the same period. Since Mary subsequently married and settled in Donaghmore it seems likely that she accompanied Bernard when he first came to that village. Bernard next appears as a witness to his sister Eliza Jane's wedding in St. John's, Kilwarlin, on May 8, 1863, when he was about 20 years old.

Ten years after he first arrived in Donaghmore, Bernard left the parish. In the Vestry Minutes of July 29, 1871, it is recorded that ``Mr. B. Brennen ceased to be Parish Clerk having commuted his annuity of 7 pounds per annum. The total commuted value amounted to 126 pounds, 14 shillings and four pence of which 32 pounds, 7 shillings and 8 pence was paid to Mr. Brennen and 94 pounds, 6 shillings and 8 pence to the Representative Body (of the Church of Ireland) which latter sum is invested for the benefit of the parish at the rate of 4 percent per annum.'' Incidentally there followed a long correspondence between the Representative Body and the Vestry as the latter wished to have complete control of the investment and so get a higher rate of interest than 4 percent. Also, it should be noted that a W. Walker is listed as the Church Society's School master in the 1877 Ulster Directory.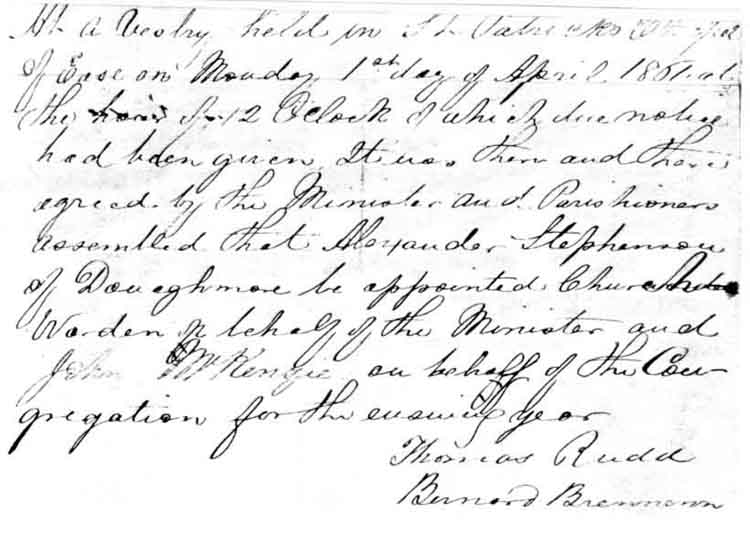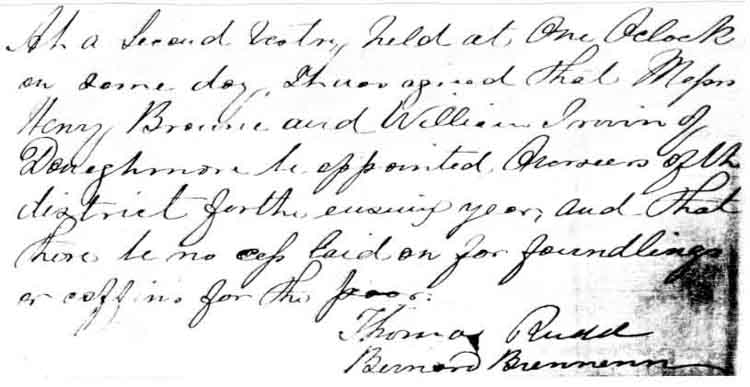 Extracts from the Vestry minutes of St. Patrick's, Donaghmore, showing the signature of Bernard Brennen.
Bernard and Susan Brennen with
Bernard and Susan Brennen
their daughters Edith and Maude
in 1914.
and "Kate" Brennen (about 1908).
We cannot be certain why Bernard left Donaghmore though it seems likely that it was at this time that he attended the Church of Ireland teacher training college in Dublin, perhaps in order to qualify himself to become a National School teacher. Unfortunately the records of this college in Kildare Street, Dublin, do not begin until 1884. According to the present archivist at the modern Church of Ireland College of Education at 96 Upper Rathmines, Dublin 6, students in those early days only came up to Dublin for a few months and generally lived in the college. If Bernard did indeed attend the teacher training college at this time (between 1871 and 1874) it was there and then that he met Susanna Dorothea Quin who trained to be a teacher at that same college. Susanna was born in Dublin in 1854, the daughter of Edward Quin and his wife Dorothea, formerly Eames. The story of Dorothea and her family is told in Chapter 3. Bernard and Susanna were married on Jul.5, 1874 in St. Mary Church in the Parish of St. Mary Shandon in the city of Cork, Ireland (Church of Ireland). On the marriage certificate he is described as being of full age, a bachelor and a schoolteacher. His place of residence is given as Kinsale, Ireland and his date of birth as 1843. Interestingly his name is given only as Macaulay Brennenn. Susanna is described as being of full age, a spinster of the Cork District of (illegible) and the daughter of Edward Quin, an accountant.
Bernard and Susanna returned to Dublin shortly after their marriage and, on May 26, 1875, their first child was born at 14 Lower Wellington Street presumably their residence. On the birth certificate Bernard has listed himself as Macaulay Brennan and Susanna's maiden name is given as Quinn. Shortly thereafter they moved to the north of Ireland where they first taught in a school near Newtownbutler that was run by the Earl of Erne. They lived in Corlatt which is about a mile southwest of Newtonbutler and on the shore of Upper Lough Erne. Their second child, Alfred, was born in Corlatt on Dec.3, 1876. On the birth certificate the father is given as Barnard Macaulay Brennenn, a National School Teacher, and the mother as Susanna Dorothea, maiden name Quin. A Dorotha Quin, nurse, was present at the birth, evidently the sister Dorothea mentioned above who may have moved north with Bernard and Susanna. From Corlatt Bernard and Susanna had to take a boat on the Erne to and from the school each day and Susanna did not like that very much. So they left and went to Dungiven, then to Cross Dernot, County Tyrone, which is about 3 miles due north of Donaghmore. Crossdernott school was the Pomeroy Parish School which dated back to 1804 and before which became a National School in 1877/78 with Bernard Brennen as its master though a William Nicholl became its principal in 1881. Bernard and Susan must have been settled in Donaghmore by 1878 because their two eldest children were baptized there in March 1878 and in June 1878 their third child, Wilfred was born in Donaghmore. On that birth certificate the father and mother are given as Bernard Macauley Brennen, schoolteacher, and Susan Dorah, maiden name Quin. At some later time between 1884 and 1890 they both became teachers in St. Patrick's National School associated with St. Patrick's Parish Church, Donaghmore. In the Ulster Directory they are first listed as the teachers in this National School in 1890 (others are named in the 1870, 1877, 1880 and 1884 directories). Therefore there is some uncertainty about where Bernard was teaching during the period 1878 to 1890; he may still have been teaching in the Cross Dernot school. They lived in the Railway Cottage close by the Donaghmore railway station where they raised a large family.

Marriage certificate of Bernard Macauley Brennen and Susanna Dorothea Quin.
There is a legend that the Brennen family was of Huguenot origin. Bernard apparently effected French dress and mannerisms. My father, Wilfred Brennen, remembered his flowered French waistcoat and the cigarettes he smoked (most unusual in Ireland at that time). When I (CEB) went to see Doreen's grandfather, William R. Kerr, a tailor in Dungannon, to seek his approval of our marriage I learnt that Grandfather Kerr remembered the ``Frenchman'' of nearby Donaghmore. As suggested earlier this may all stem from Bernard's introduction to French fashions while a student in Dublin. Bernard had a reputation as an excellent teacher and won the Carlisle and Blake premium, a teaching commendation, no less than three times in succession. He was also very active in the affairs of St. Patrick's Parish Church in Donaghmore. In the Minute Book of the Select Vestry his name first appears during this second sojourn as a member of the Select Vestry at its Easter Vestry meeting on March 29, 1880. He remained a member of the Select Vestry until his death. In later years he was appointed Secretary of the Select Vestry and also served as Parochial Nominator and as Churchwarden. There are extant signatures of his as a witness to his sister Mary's wedding in Donaghmore and to his sister Eliza Jane's wedding in St. John's, Kilwarlin. In Donaghmore the Brennens were very friendly with Bernard's sister's family, the Stewarts. Indeed, the grave in St. Patrick's churchyard is a twin grave with the Stewart family. Susan Dorothea, as she is called on her gravestone, was a severe and grand old Victorian lady who always dressed in black. When Wilfred Brennen as a small boy was on holiday in Donaghmore with his sister Muriel he got into some trouble when he announced at the dinner table one evening that his grandfather, Bernard, was a fine chap but that he, Wilfred, disapproved of the woman he had married. However, Gertrude Scott remembers her as a very good and kind lady; she says she never saw her frown. Alex Caldwell of Donaghmore who was very friendly with both the Brennen and Stewart families recalled Susan coming to his parent's farmhouse every day for milk, butter, eggs, etc.
The 1901 census return of Bernard and Susan Brennen.
In the 1901 Census Bernard M. and Susan Dorah Brennen are listed as living in the townland of Mullygruen, parish of Donaghmore. Their ages are given as 58 and 46 respectively and both are listed as National Teachers. Their house, which belonged to Messrs. Lyle, wine and spirit merchants of Donaghmore, was apparently next to ``Donaghmore Old National School''. At the time of the Census their sons Cecil and Herbert and their daughters Edith and Maud were living with them. Bernard retired from teaching in 1908 and his wife retired in 1919. In her memoirs of Donaghmore Margaret Mary Devlin recalls in the 1980s that: "The property belonging to the Castle was known as Lyles Estate in the Townland of Mullygruen, the house where Ann McCourt lives now belonged to the Lyles Estate, a family called Brennan lived in that house. Master and Mrs Brennan were teachers in the Pink School, (Protestant) they also played the Organ in the Church. ... After Mr and Mrs Brennan retired there was a Master Lee came to teach in the Pink School, he had two children, Isobel and Cecil, they lived at where we called Dick Simmon's Crossroads, it is now known as Baxters or McConvilles corner. Mrs Lee died quite young and after Master Lee retired I think he went to live about Granville or Eglish. There was a Mr Hobson came in his place and there was also a lady called Miss Graham and she boarded with the Brennans and taught in that school. I also remember a Miss Emerson teaching there but she only stayed a short time, she boarded with Mr Maguire who was the Printer in Browns Soapworks."
Bernard was very fond of walking along the railway line with his dog. At the age of 75 he did not return from his walk on the night of May 11, 1918. The next morning he was found sitting on the bank of the railway line and leaning on his walking-stick, seemingly alive. His dog stood guard and had to be enticed (or forced) away before the body could be moved. Susan Dorothea died of heart failure on Feb. 24, 1925, at the age of 71. Her son Cecil was present at her death. They are both buried in the cemetary of St. Patrick's. Chairs by the altar, the eagle lectern and a quantity of church silver are dedicated to the memory of Bernard, Susan and some of their children. These were the gifts of their daughter, Maud. The gravestone in the churchyard of St. Patrick's Parish Church, Donaghmore reads:
BRENNEN
in loving memory of
Bernard McAuley Brennen 11th May 1918
his wife Susan Dorothea Brennen 23rd Feb 1925
and their children Ethel 1887, Ernest 1887
Wilfred 1897, Mervyn 1897 and baby 1894
---------------------------------------
Kathleen Brennen 1892 Ann Grieve 1899
Alfred M.Brennen 1948 Cecil 1950 Herbert 1952
And with the morn those angel faces smile
which we have loved long since and lost awhile
Erected by their sorrowing daughter Eileen Maud Brennen
and grandson E.Cyril Grieve.
On either side of this main inscription are the names of other children of Bernard and Susan as well as that of grandson, Cyril Grieve:
Eileen M. Brennen, 8th June 1970
Edith Mabel Olds, 29th June 1971
Edward William Cyril Grieve, 1st June 1968
As indicated on this gravestone Bernard and Susan had many children. They are described in the next chapter. A photograph that is included may well have been taken outside the Railway Cottage and includes their daughters Edith and Maud and a third young woman whom Gertie Scott identified as ``Kate'' Brennen.